Paiute OHV / ATV Trails v1.1, UT Map

Map Information
Created By: eaparks
Last Updated: April 2nd, 2012 2:04pm
Map Coverage:
North: 39.6144°
West: 112.675° East: 110.133°
South: 37.2516°
Country: United States
State: Utah
Price: Free







Search For Maps
Most Popular Maps
Other Maps By eaparks (See All)
Paiute OHV / ATV GPS map for trails in Utah and surrounding area including trails to/from Paiute to Bryce Canyon, Tropic Reservoir, Gooseberry, Circleville, and Arapeen. More than 2,000 miles of trails.
9-23-09 - origanal version
3-31-11 - Added EZ Install for Mapsource, cleaned up tracks/trails, added a few additional POIs, 20 gas station POIs.
4-4-11 - Thanks to Gary Bushman (atvutah.com) for providing updates. Removed trails "P 77d" and "P 71" due to crossing on to private property. Added a new trail "P 77d Bullion Falls". Added a new POI for "Marysvale Miner Park".
4-2-12 - version 1.1. Thanks to K. Dastrup for providing trail updates improving the accuracy of trails: P 53b, P 33east1, P 33east2, P 33east3, P 33east4, and P 54. Removed trail P 5997. Before installing this new map, "Paiute Trails v1.1", you should uninstall "Paiute Trails", if you had installed it.
8-21-13 - Added Map image
Trails are colored coded by difficulty: (can also be viewed in Readme.txt file)
- White line with red border = Property Boundaries; ie... Paiute, etc
- Yellow line = the main Paiute Trail 01 loop
- Green line = Easiest Trails (includes gravel roads)
- Blue line = Intermediate Trails
- Red line = Difficult Trails
- Red and Black Dashed line = Extremely Difficult Trails
Please email me with any corrections that need to be made or additional POIs that would be good to add to the map, thank you.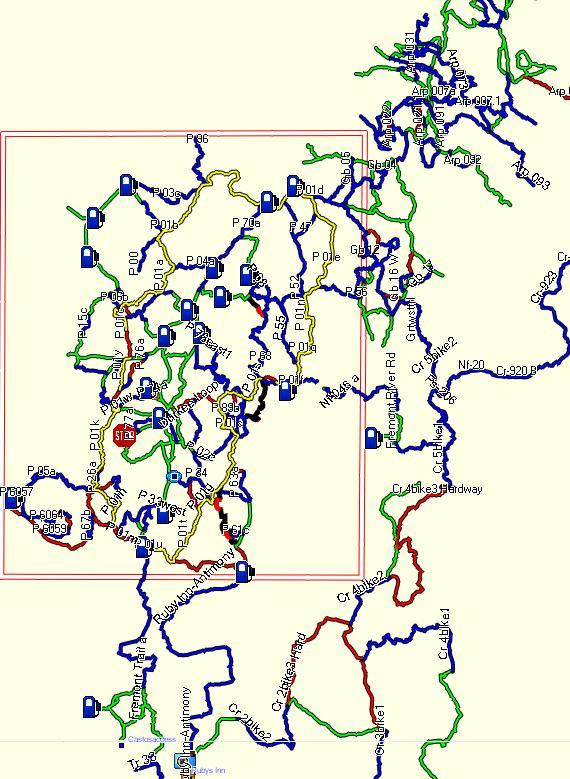 Download Windows Version [528kB] (3025 Downloads)