MT Deer-Elk-Lion HD's 2019 Map

Map Information
Created By: yogazoo
Last Updated: May 19th, 2019 1:05am
Map Coverage:
North: 49.0004°
West: -116.051° East: -104.039°
South: 44.3573°
Country: United States
State: Montana
Price: FREE







Search For Maps
Most Popular Maps
Other Maps By yogazoo (See All)
This map is a transparent overlay that shows the statewide hunting district boundaries of Montana's Deer-Elk-Lion hunting season 2019. This map will show hunting district boundaries and will show the H.D. number when you pan your GPS pointer over any desired location. You can enable this map over any topo or street map you have on your GPS!!
If you have any questions please contact me at: [email protected]
For screenshots, detailed description, and to download the installer for PC and MAC please visit our website: http://gpsmapsmontana.com/shop/hunting-districts/
The "Pre-Compiled" map file below is just as it would be if you transferred the map from BaseCamp. I'm essentially simply cutting out the need for Garmins broken map transfer software. The map data is even visible in BaseCamp when your Garmin is connected to your computer. Install instructions are included in the download.
DOWNLOAD:
Pre-Compiled Map File for Modern Garmin Units: CLICK HERE
This map is a transparent overlay shown below over our 2018 Topo + Landowner map.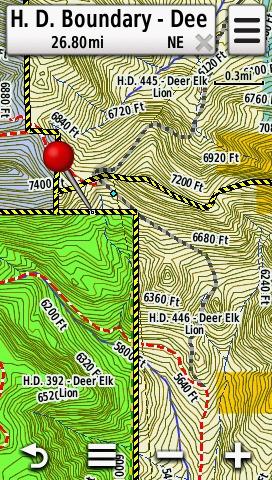 Download Windows Version [5MB] (4097 Downloads)
Download Mac Version [5MB] (771 Downloads)