Taylor Park, CO ATV Trails Map

Map Information
Created By: eaparks
Last Updated: October 24th, 2011 7:10am
Map Coverage:
North: 39.1906°
West: 107.188° East: 106.084°
South: 38.4862°
Country: United States
State: Colorado
Price: Free









Search For Maps
Most Popular Maps
Other Maps By eaparks (See All)
Taylor Park, CO ATV Trails.
2-18-2010 - original version
1-1-2011 - added a few more trails and some POIs.
9-24-2011 - Added EZ Install, for Mapsource & Basecamp. Added and/or improved the accuracy of 78 Tracks in the Taylor Park and Crested Butte area and added 49 more POIs; map now contains 214 POIs for locations of Restrooms, Scenic Overlooks, old Cabins, Parking/Staging Areas, Bridges, Summits, Campgrounds, Waterfalls, Mtn. Passes, Fuel, Restaurants, etc. Trails are color coded per Trail.
8-21-13 - Added Map image.
Difficulty as follows: (see Readme.txt file, also)
- Yellow line - areas where NO ATVs are allowed on parts of Taylor Park Rd., Taylor Park River Rd., and Cottonwood Pass
- Green line = Easiest Trails (includes gravel roads)
- Blue line = Intermediate Trails
- Red line = Difficult Trails
- Red / Black line = Extremely Difficult Trails
- Blue dashed line = Dirt Bikes Only Trails
- Red dots & dashes = Hiking Trails Only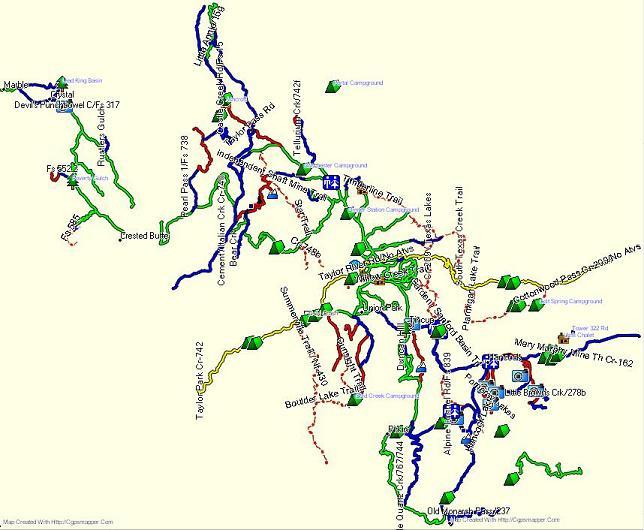 Download Windows Version [311kB] (5767 Downloads)