GPS Sway
GPS Sway is a simple coordinate conversion program. It handles all forms of latitude and longitude (degrees, degrees minutes, degrees minutes seconds) as well as UTM coordinates and will convert from any form to another. It also handles signs or character direction.
While weighing in at only 124kb the program provides advanced features. This program works great to get coordinates in any form for any program. Uses include taking coordinates from your GPS receiver or Google Earth and translating them into a standardized form. In addition, UTM coordinates are easy to find on paper maps while lattitude and longitude are much more difficult, converting coordinates into UTM allows for easy map reading.
Features
Handles all standard coordinates (DDD.DDDD°, DDD° MM.MMM', DDD° MM' SS.SSS")
Handles UTM (Universal Transverse Mercator) coordinates and zones
Very small memory footprint
Includes or removes unit symbols (°,',")
Allows entering of coordinates with signs (west and south are negative) or via cardinal directions (N,S,E,W)
Works for NAD83 and WGS84 Datums only
Very fast
Extremely simple
Screenshots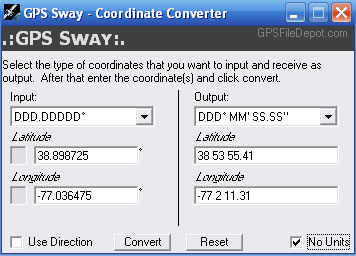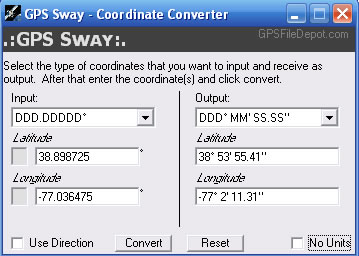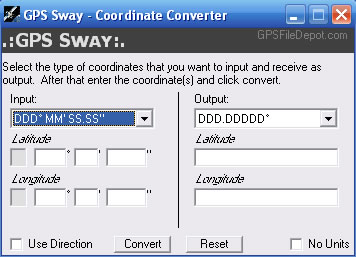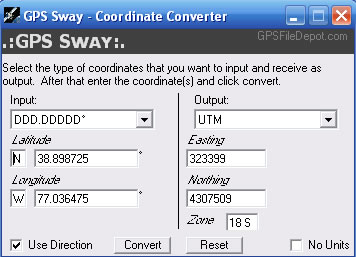 Instructions
The user manual is available for download in pdf.
Download the user manual (72kb)
Installation
GPS Sway is for Microsoft Windows only. Two forms of GPS Sway exist and are installed differently:
Download just the .exe. This file can be placed anywhere and will run GPS Sway. This is the meat of the program. Extract from the zip file to any location (including flash drives) and double click to run GPS Sway. This is mainly for advanced users.
Download the installer. This will install GPS Sway on your PC and place shortcuts on the desktop and start menu. This is the easiest way to install and use GPS Sway.
Download
Current Version: 1.0.0
Production Date: 15 May 2007