GPS Process
THIS TOOL NO LONGER WORKS. Over time the USGS has changed their processes and this tool does not work. I leave the page for archival purposes. Please follow this tutorial to handle GNIS processing.
GNIS Process is a program that quickly downloads and processes USGS geographic names information system data and outputs a gpx file or shapefile that can be used to add data to maps.
Requirements
Features
All-in-one GNIS downloading and processing.
Handles the following GNIS types: airport, arch, area, arroyo, bar, basin, bay, bench, bridge, canal, cape, cemetery, church, cliff, crossing, dam, falls, gap, hospital, island, lava, locale, mine, park, plain, populated place, range, rapids, reservoir, ridge, school, slope, spring, summit, swamp, tower, trail, tunnel, valley, and well.
Screenshots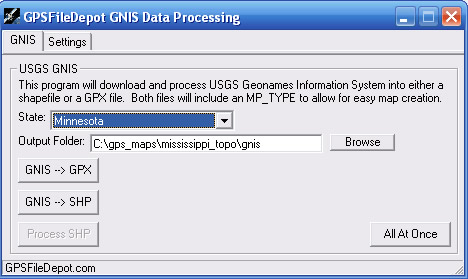 Instructions
The program is very self-explanatory. Directions are available in Part 5 of the Garmin Map Making Tutorial.
Installation
GNIS Process is for Microsoft Windows only.
Download the installer. This will install GNIS Process on your PC and place shortcuts on the start menu.
If the program doesn't run you most likely don't have the vb6 runtime files. Download & Install them here.
The first time you run the program you will have to fill in all the settings. Just point the program to the proper files for PostGIS & FWTools. Fill in all your PostGIS information as well.
The program is now ready to download and process GNIS data.
Download
Current Version: 1.0.9
Production Date: 25 May 2009
Download Options:
1. Installer (131kb)
Note: A

symbolizes an external link. That means it is not hosted by or provided by GPSFileDepot.