Garmin Map ID Finder
Garmin Map ID Finder is a very simple program originally written by MrGneissGuy. It is no longer being updated but still works well to determine the map ID's for any maps installed on your system.
Requirements
Features
Get Map ID from maps that are installed
Get Map ID from gmapsupp.img
Screenshot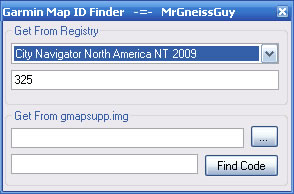 Instructions
Double click to launch the program. Select the map or gmapsupp.img. Press Find Code for gmapsupp.img; the code will automatically appear for maps installed already.
Installation
Garmin Map ID Finder is for Microsoft Windows only.
Download the program.
Extract it from the zip file to anywhere on your computer.
Double click to run.
Download
Production Date: 2 Dec 2008
Download Options:
1. Zip File (6kb)