Prentice Cooper WMA Trails v2.0, TN Map

Map Information
Created By: eaparks
Last Updated: August 19th, 2012 7:08pm
Map Coverage:
North: 35.1795°
West: 85.5145° East: 85.365°
South: 35.033°
Country: United States
State: Tennessee
Price: Free









Search For Maps
Most Popular Maps
Other Maps By eaparks (See All)
Prentice Cooper WMA Trails v2.0, located approximatetly 8 miles West of Chattangooga, TN. Map has 75 miles of OHV / ATV trails and includes 95 POIs for Parking/Staging Areas, Foodplots, Scenic Overlooks, Pond, Official Buildings, and other points of interest. Trails are closed to all OHV / ATV traffic during Prentice Cooper WMA designated hunting times. Check locally for open trails before going there to ride.
10-24-11 - v1.0 Original version
8-19-12 - v2.0 improved accuracy of Sheep Rock Rd. and Hemlock Branch Rd. and added 1 new trail between Maple Branch and Short Creek Rds.
8-21-13 - Added Map image
Trails are color coded per trail difficulty, as follows: (see readme.txt file, also).
Yellow line - Tower Drive (main gravel road)
Green line - Easiest Trails (includes gravel roads)
Blue line - Intermediate Trails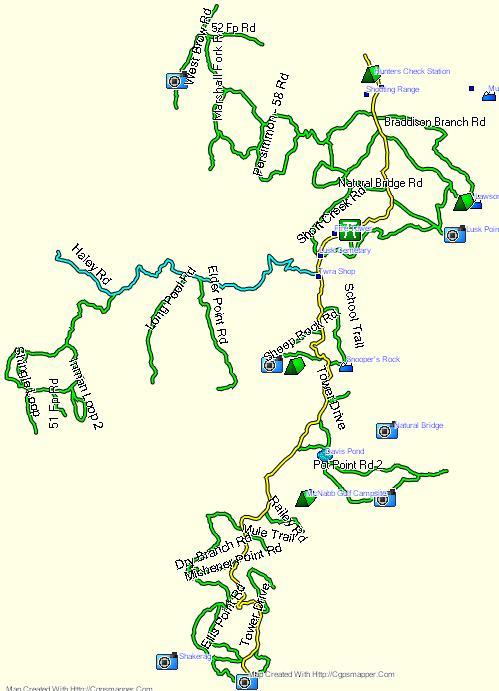 Before installing Prentice Cooper WMA Trails v2.0, manually uninstall my previous version if you had downloaded and installed it from GPSFileDepot.com.

Download Windows Version [186kB] (2513 Downloads)