Kisatchie National Forest Map

Map Information
Created By: Danoman
Last Updated: October 8th, 2011 1:10pm
Map Coverage:
North: 33°
West: 93° East: 92°
South: 30°
Country: United States
State: Louisiana
Price: Free









Search For Maps
Most Popular Maps
Other Maps By Danoman (See All)
Forest roads,misc POI's, trails and restricted areas.
My first map using Mapwel that was made to use with maps4gps excellent Louisiana Topo map. http://www.gpsfiledepot.com/maps/view/144/
This map has routable roads but some roads are actually not passable so the routing will not work in all cases.
There is an issue with the 64-bit installer used in the PC version of this mapset. If this is the first mapset you are installing on a Windows 7 64 bit PC, you will need to FIRST install a mapset which used a 32-bit installer, 'My trails ....' http://www.gpsfiledepot.com/maps/view/53 works and is small in size.

WARNING: Many roads in the forest system are NOT open to motorized vehicles.
You must reference the motor vehicle use maps located at the forest website.
http://www.fs.usda.gov/kisatchie
The data contained in this map was compiled from forest service shapefiles.
Below are two screenshots showing with and without Kisatchie data using maps4gps Louisiana Topo as the base map.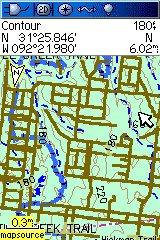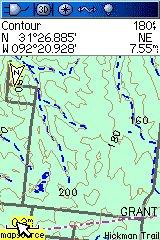 Download Windows Version [3MB] (2350 Downloads)