Wyoming Landusage Map

Map Information
Created By: -Oz-
Last Updated: October 2nd, 2008 9:10pm
Map Coverage:
North: 45.1181°
West: -111.162° East: -104.043°
South: 40.9872°
Country: United States
State: Wyoming
Price: Free!







Search For Maps
Most Popular Maps
Other Maps By -Oz- (See All)
Introduction
This map was designed with hunters in mind. This map is semi-transparent so it overlays on top of any other maps you have (City Navigator, Garmin's Topo, or the Wyoming Topo). This map is created for Garmin GPS receivers and MapSource.
Features/Key
This map has 17 different land types which are represented by different colors/patterns; hovering over them in mapsource/your gps will also display the owner.
NPS National Park/Monument
NPS National Recreation Area/Historic Site
USFS National Forest
USFS National Grassland
USFS Wilderness Area/Scenic River
USFS Research Natural/Special Interest Area
USFS National Recreation Area
National Wildlife Refuge
Bureau of Land Management (BLM)
Department of Defense (DoD)
Indian Reservation
Wyoming State Land
State Park
State Wildlife Habitat Management Area
Private Lands (white diagonal lines)
Nature Conservancy Preserve
Open Water
Coverage
This map covers the entire state of Wyoming.
Screenshots
Below are a couple examples of this map on a Garmin 60csx. On the left is a zoomed out version that shows multiple types of land (looks better on the actual GPS). On the right is an example where you can see some contours lines through the grid.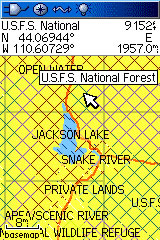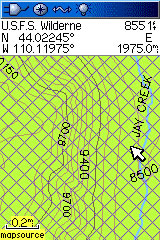 Below is a picture of the map in MapSource 6.14.X (white is private land):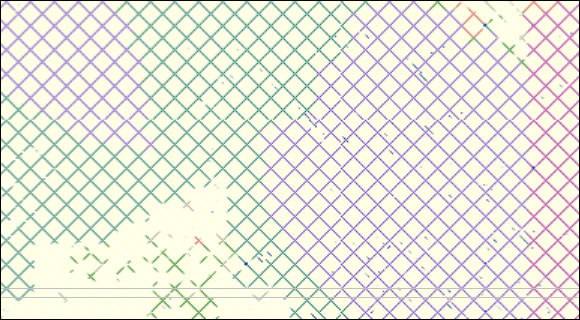 Installation
Two options exist; for windows download and run setup. The map will then appear in Garmin MapSource and can be added to your GPS by selecting it in MapSource and sending it to the GPSr. For Mac download the mac version, extract it and double click the .gmapi file. Map Manager will then install the map for you.
Version 1.0 Released 2 Oct 08
Download Windows Version [5MB] (4850 Downloads)
Download Mac Version [5MB] (1825 Downloads)


Like this map? Get a free detailed Wyoming Topo.
GPS Usage
This map can be installed with any other Garmin Maps (How-To Tutorial). Then you simply hide and show other maps until you see the Wyoming Landuse Map; you can leave it on at all times since it is transparent. For more detailed instructions check out this tutorial.
Support The Effort
Although this map is free, and always will be if you find the map useful please consider making a donation to offset software, hardware, and hosting costs.
* You don't need paypal to donate but that is who will process the donation.
If you can't donate (or even if you can) another great way to help is by providing data for this map or other maps. If you have data please contact me.
References
One resource was used to create this map: