Hawaii Topo Map

Map Information
Created By: -Oz-
Last Updated: October 23rd, 2011 7:10am
Map Coverage:
North: 22.2418°
West: -160.543° East: -154.748°
South: 18.8745°
Country: United States
State: Hawaii
Price: Free!










Search For Maps
Most Popular Maps
Other Maps By -Oz- (See All)
Introduction
The purpose of this venture is to create a detailed topographic map of the entire state of Hawaii at 24k detail. This map is created for Garmin GPS receivers and Mapsource.
Features
Roads - Interstates, highways, roads, limited unpaved roads (Tiger 2009)
High resolution water data - lakes, rivers, streams, marshes, and washes
Federal & State Land Usage - Wilderness area, national parks, and military bases/ranges, native american reservations, state parks, wildlife preserves
Borders - County and state boundary lines
Elevation contours - 30ft intervals (equivalent to or greater than 24k)
Points of Interest - summits, mines, falls, dams, cemeteries, towers, populated places, hotels, harbors, wrecks, etc.
Trails - Na Ala Hele State Trails and Access System, a couple other random trails
Parks POI - trailheads, camping sites, forest service huts within the national parks/forests
Coverage
This map covers the entire state of Hawaii.
Screenshots
These two screenshots show the Hawaii Topo on a Garmin 60csx (night mode). On the left is part of the Hilo Watershed Forest Reserve. On the right is part of Honolulu: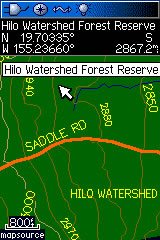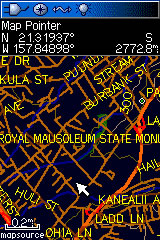 This screenshot demonstrates how this topo looks in the new version (6.14.X+) of Garmin MapSource: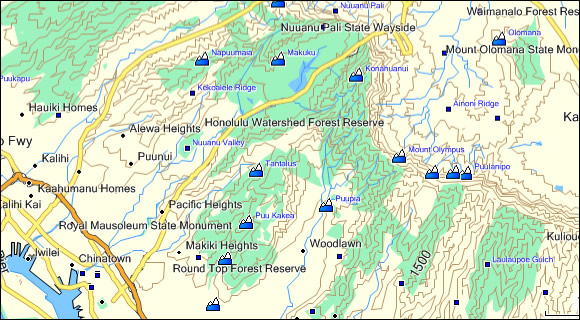 This final screenshot compares the Hawaii Topo to Garmin's US Topo Hawaii and Garmin's Topo 2008: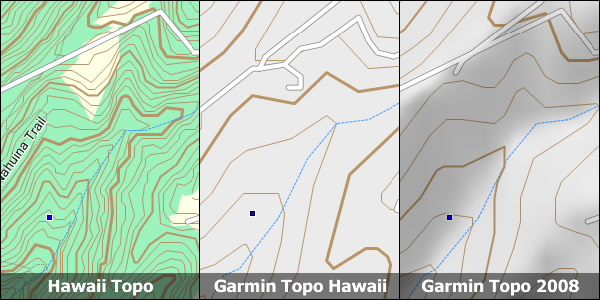 As you can see the Hawaii Topo shows where state parks are and also has trail coverage that is lacking in Garmin's topo maps.
Installation
Two options exist; for windows download and run setup. The map will then appear in Garmin MapSource and can be added to your GPS by selecting it in MapSource and sending it to the GPSr. For Mac download the mac version, extract it and double click the .gmapi file. Map Manager will then install the map for you.
Version 1.3 Released 11 Mar 10
Download Windows Version [17MB] (23579 Downloads)
Download Mac Version [17MB] (6546 Downloads)

GPS Usage
This map can be installed with any other Garmin Maps (How-To Tutorial). Then you simply hide and show other maps until you see the Hawaii Topo. For more detailed instructions check out this tutorial.
Support The Effort
Although this map is free, and always will be, if you find the map useful please consider making a donation to offset software, hardware, and hosting costs.
* You don't need paypal to donate but that is who will process the donation.
If you can't donate (or even if you can) another great way to help is by providing data for this map or other maps. If you have data please contact me.
References
Many resources were used to create this map, the main ones are listed here:
USGS National Elevation Data (NED)
http://ned.usgs.gov/
The NED is elevation data provided in raster form by the USGS.
USGS National Hydrography Dataset
http://nhd.usgs.gov
The USGS provides hydrographic data in high resolution.
USGS National Geographic Names Information System (GNIS)
http://geonames.usgs.gov/pls/gnispublic
The USGS provides locations and names for many features throughout the United States.
Changelog
Version 1.3 (23 Oct 11)
Updated the windows installer to handle Windows 7 64-bit install issues
Version 1.3 (11 Mar 10)
Updated the roads to Tiger 2009; this also should fix the location errors
Added wreck POIs
Reduced number of segments from 25 to 20
Updated reserves
Added another couple of trail systems
Version 1.20 (26 Sep 08)
Fixed bug with POI being in the wrong datum; map is now correct
Version 1.10 (25 Sep 08)
Fixed the roads being out of place on Oahu
Bug reported: POI slightly off (projection error) - fix in the works.
Version 1.00 (23 Sep 08)