Alpine Loop Trails, CO Map
Map Information
Created By: eaparks
Last Updated: March 26th, 2012 8:03pm
Map Coverage:
North: 38.4657°
West: 107.99° East: 107.07°
South: 37.6278°
Country: United States
State: Colorado
Price: Free

Search For Maps
Most Popular Maps
Other Maps By eaparks (See All)
2/16/2010; original v1.0
Alpine Loop OHV, ATV, & Hiking Trails in Lake City, Silverton, and Ourah, CO area.
Map contains 168 POIs consisting of: 9 Mtn. Peaks, 6 Lakes, 3 Waterfalls, 18 Mines, 7 Scenic Overlooks, 4 Restrooms, 3 Parking/Staging Areas, Lake City Hospital, 2 Campgrounds, plus several other POIs.
Trails are color coded by difficulty:
- Yellow line = the main loop road thru Engineers Pass & Cinnamon Pass and a couple of other main roads
- Green line = Easiest Trails (includes gravel roads)
- Blue line = Intermediate Trails
- Red line = Difficult Trails
- Red and Black Dashed line = Extremely Difficult Trails
- Red Dots and Dashes = Hiking Trails
3-26-2012 - v1.1. No change in any of the map data, map was made as an EZ Install download.
8-21-13 - Added Map image.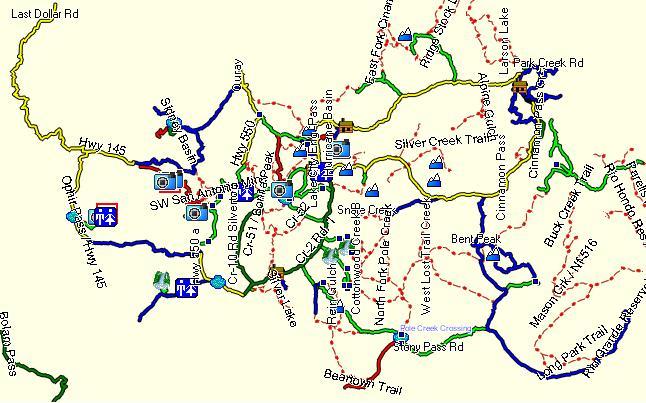 Download Windows Version [297kB] (2943 Downloads)